What Are Preschool and Parent & Child Music Classes?
What Are Preschool and Parent & Child Music Classes?
Preschool Music Classes:
So, what are preschool music enrichment classes, and who teaches them?
Generally, most preschools have 100 children or less, and are too small to hire a full time music instructor. This results in a very high demand for freelance preschool music and movement teachers. Many preschool music teachers even find schools coming to them.
Preschools often hire freelance music teachers to come in one morning a week for approximately two to three hours. For example, a teacher may come every Monday from 9:00 am to 12:00 pm once a week. Each music class generally lasts for about 20-25 minutes, so a teacher can often cover a whole preschool in 4 to 6 music classes in those few hours.
The children in the classes tend to be around 2 to 4 years old (and many preschools with daycares even have babies). The classes include songs, creative movement, stories, instrument exploration and play.
Preschool music teachers come from many backgrounds. Some are musical moms and dads who help out for extra income. Some are local musicians who supplement their income by teaching preschool music. Preschool music teachers may work one day a week or every day of the week. Some preschool music teachers work at one school and others work at many preschools.
Often preschool music teachers are very talented and motivated but lack training in early education and music education. That is where this training and our songs and stories can help.
Money:
Preschools generally pay freelance music teachers between $25 to $50 per hour. However, this varies greatly depending on where you live and how the economy is doing. You negotiate this rate with each school. Since you are there for about 2 to 3 hours, you can make about $ 50 to $150 dollars each morning. We recommend requiring a minimum of two hours each morning.
Working as a freelance music teacher in a preschool is a good consistent source of income, and a popular teacher can often fill as many mornings as they wish. If you do a good job, many schools will keep you on for many years.
Parent & Child Music Classes:
So, what are parent & child music classes and who teaches them?
Parent & child music classes are generally for parents or caregivers with young children. The children tend to be babies to age four. The child may come with a parent, grandparent, nanny, or other caregiver.
Parent & child music classes tend to have a variety of musical experiences including songs, clapping, tapping, dancing, finger-plays, lap songs, stories, instrument exploration and play.
The classes are generally offered once per week and last about 45 minutes. They are often accompanied by a CD of The Learning Groove music. When parents and children take the class together the learning can continue long after the class is over. This honors the idea of the parent as the first teacher.
Money:
In theory you can make more money teaching parent & child music classes. This was certainly true for both Eric and Michael.  With full classes many teachers find they make up to 150 dollars per class. However, this depends on how successful your classes are, and it can vary greatly based on location and economy.  It also requires marketing or word of mouth to get students.
Class Comparison
There are many similarities and differences between preschool music classes & parent & child music classes.  This chart below goes through them and the accompanying video discusses the chart. You can teach preschool music or parent & child. Or, you can teach both of them.
Michael and Eric have taught both types of classes and often at the same time. Each type of class has advantages and they can work well together.
Comparison Chart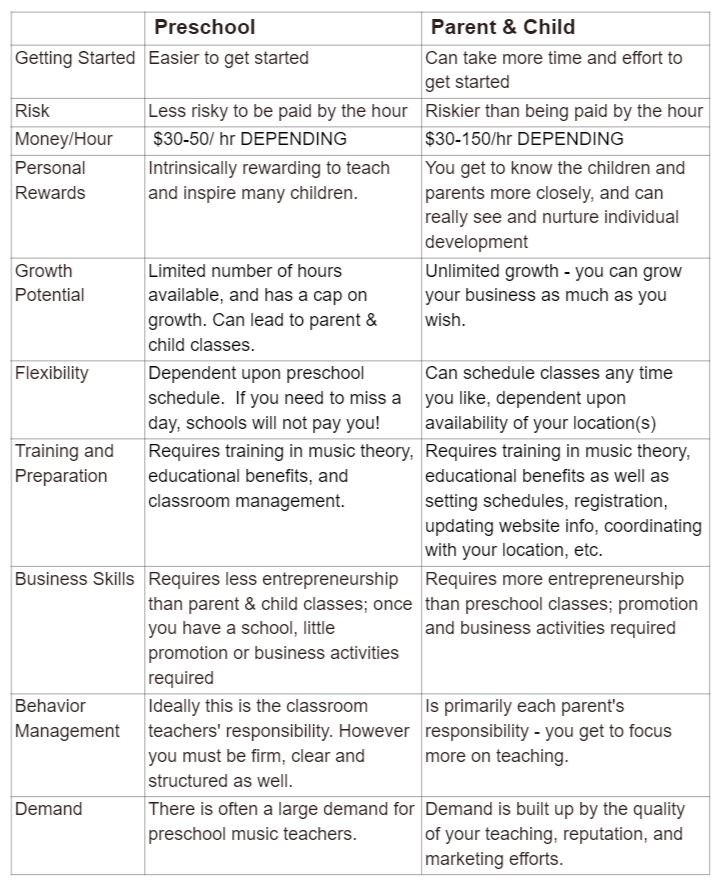 Complete and Continue